Promising alternative cancer treatments & supportive treatments
New drugs and procedures are continuously studied and approved by the FDA for often little improvement over the existing ones. Still, promising alternative treatments are ignored and not adequately studied and approved as part of the standard cancer treatments.
These often cheap and less consequential treatments have been acknowledged and studied even by mainstream institutions and hospitals. Yet, the studies are slow in planning and execution and never seem to be concluded or result in any recommendations or approval for cancer (and other diseases) treatment.
Here are just a few of these alternative and supportive treatments:
A ketogenic & low carbohydrate diet, intermittent fasting
Vitamin D
High dose vitamin C
CBD oil
Black seed oil
Repurposed drugs (example: Fenbendazole & mebendazole, the human form)
A ketogenic & low carbohydrate diet, intermittent fasting
See Diet to prevent cancer and cancer relapse
Definitions
Ketogenic
The idea of the Ketogenic diet is to lower sugars and carbohydrates enough (~10-20% of daily calorie intake) to reach ketosis, a metabolic state in which the body uses fat (ketones) for fuel instead of carbs and becomes fat adapted. This can lead to nutritional ketoses that can help with managing and even treating metabolic and autoimmune diseases.
LCHF (Low Carbohydrate High Fat)
Like a ketogenic diet, but the goal may or may not be to reach ketosis instead, lowering insulin production and preventing insulin resistance. This diet helps to prevent many metabolic diseases before the symptoms appear. There are often years of inflammation and metabolic syndromes before metabolic diseases are diagnosed. An LCHF diet can prevent and heal some initial damages before they become irreversible.
Cases studies
The use of a ketogenic diet for treating or supporting the treatment of cancers.
Metabolic therapy and bioenergetic analysis: The missing piece of the puzzle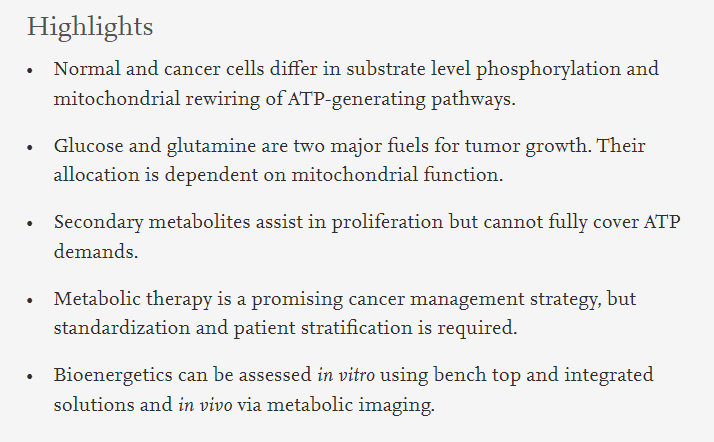 ========================
Might Cancer Be a Metabolic Disease?
Anecdotal cases
For nine years, Andrew Scarborough has been managing brain cancer via a ketogenic diet.
Pablo's Journey Through Brain Cancer
Vitamin D
Vitamin D has been shown in many case studies, laboratory, and animal studies to be effective in preventing and treating cancer. It is another one of those promising anti-cancer components that will probably never get to be seriously considered, studied, and approved for cancer treatment.
========================
Bone damage after chemotherapy for lymphoma: a real-world experience
Results
Approximately 50% of patients had osteoporosis, with a prevalence of vertebral fractures of 65.5%. In most patients, we found hypovitaminosis D and high levels of parathyroid hormone (PTH). Furthermore, a statistically significant association was observed between high PTH levels and previous lymphoma treatment. Finally, the Mini-Osteoporosis Quality of life (mini-OQLQ) questionnaire demonstrated a loss of quality of life as a consequence of the change in bone status.
Some authors state that low serum levels of vitamin D are associated with a higher risk of developing NHL, which is also confirmed by other studies that conclude that sun exposure favors higher serum levels of vitamin D, reducing the risk of developing NHL [25]. Furthermore, it is now known that vitamin D deficiency represents a negative prognostic factor for patients with lymphoma treated with chemotherapy, in particular Rituximab plus cyclophosphamide, doxorubicin, vincristine, and prednisone (R-CHOP) [26], in fact, vitamin D supplementation can be useful to improve survival in these patients.
In relation to the data obtained, it would be desirable to measure the blood levels of Vitamin D and PTH, the execution of a DEXA, and radiographic examination of the thoracolumbar spine between routine examinations in patients with lymphoma, in order to counteract the negative effects on the bone early.
========================
Even in this large study titled No Correlation Between High-Dose Vitamin D Supplementation and Reduced Cancer Risk, the numbers for the vitamin D group are consistently better.
Cancer was diagnosed in 1617 individuals over the course of a median of 5.3 years of follow-up (793 in the vitamin D arm and 824 in the placebo arm; hazard ratio [HR], 0.96; 95% confidence interval [CI], 0.88-1.06; P = .47), and 805 participants had major cardiovascular events (396 in the vitamin D arm and 409 in the placebo arm; HR, 0.97; 95% CI, 0.85-1.12; P = .69).
The secondary end point HRs for breast cancer, prostate cancer, colorectal cancer, and cancer-related deaths were 1.02 (95% CI, 0.79-1.31); 0.88 (95% CI, 0.72-1.07); 1.09 (95% CI, 0.73-1.62); and 0.83 (95% CI, 0.67-1.02), respectively. Other secondary end point HRs included 0.96 (95% CI, 0.86-1.08) for the expanded composite end point of major cardiovascular events plus coronary revascularization; 0.96 (95% CI, 0.78-1.19) for myocardial infarction; 0.95 (95% CI, 0.76-1.20) for stroke; and 1.11 (95% CI, 0.88-1.40) for death from cardiovascular causes.
========================
It was discussed over ten years ago and followed by the "expert" dismissal. Reminiscent of what's happening with all other promising holistic approaches to cancer treatment during the past several decades.
Vitamin D Kills Cancer Cells – ABC News
========================
More sources to explore for vitamin D effect on cancer prevention and management
Frank Lipman MD @DrFrankLipmanA new study found that a combination of high-dose vitamin D, omega-3s, and a simple home strength exercise program showed a cumulative reduction by 61% in cancer risk in healthy adults aged 70 or older. ow.ly/aEAj50IRT0xApril 26th 202256 Retweets218 Likes
The Peppone Lab @LPepponeExcited to present our work on high-dose vitamin D and bone health in breast cancer patients! Stop by and see our results #ASCO19 #VitaminD May 16th 20192 Retweets10 Likes
A phase II RCT of high-dose vitamin D supplementation and exercise for cancer treatment-induced bone loss in breast cancer patients on aromatase inhibitors.
Methods: Non-metastatic breast cancer patients starting AIs with low VITD (<32 ng/ml) were randomized 1:1:1 into 3 arms: 1) placebo 2) high-dose VITD (50,000 IU/week) or 3) high-dose VITD + Exercise for Cancer Patients (EXCAP): a home-based, personalized walking and resistance band training program for 24 weeks. All subjects received the RDA of VITD 600 IU/day. Serum VITD and calcium levels were assessed at baseline, weeks 6, 12, 18, and 24. BMD was assessed at the hip via DXA at baseline and week 24. Results: Of the 116 subjects randomized (mean age = 60; 94% white; mean baseline VITD = 24.6 ng/mL), 90 provided fully evaluable data. Compliance (≥ 80% of instructed doses) exceeded 95% in all 3 arms with no between-group difference. ANCOVA showed significant differences between groups on final VITD levels (high-dose = 63.6 vs high-dose + EXCAP = 60.3 vs placebo = 32.0 ng/mL; p<0.001) without severe calcium toxicities, as indicated by final calcium level (high-dose = 9.4 vs high-dose + EXCAP = 9.5 vs placebo = 9.4 ng/mL; p = 0.78). The placebo group lost a significant amount of hip BMD (−1.7%; p < 0.01) while hip BMD was maintained in the high-dose (−0.1%; p = 0.77) and high-dose + EXCAP (−0.2%; p = 0.74) resulting in significant between-group differences for high-dose + EXCAP vs placebo (p = 0.04) and high-dose vs placebo (p = 0.05).
Conclusions: This is one of the first studies to show our novel high-dose VITD intervention, with and without exercise, significantly reduced hip BMD loss in breast cancer patients on AIs. Moreover, high-dose VITD supplementation is safe and feasible in this population. A phase III RCT is needed to confirm these findings.
High dose vitamin C
Coming soon …
CBD oil
========================
Daily use of cannabidiol ('CBD') oil may be linked to lung cancer regression.
The report's authors describe the case of a woman in her 80s, a smoker, diagnosed with non-small cell lung cancer. The woman refused treatment, so was placed under 'watch and wait' monitoring, which included regular CT scans every 3-6 months.
These showed that the tumor was progressively shrinking, reducing in size from 41 mm in June 2018 to 10 mm by February 2021, equal to an overall 76% reduction in maximum diameter, averaging 2.4% a month, say the report authors.
When contacted in 2019 to discuss her progress, the woman revealed that she had been taking CBD oil as an alternative self-treatment for her lung cancer since August 2018, shortly after her original diagnosis.
She had done so on the advice of a relative after witnessing her husband struggle with the side effects of radiotherapy. She said she consistently took 0.5 ml of the oil, usually three times a day, but sometimes twice.
========================
Also, explained in this YouTube video: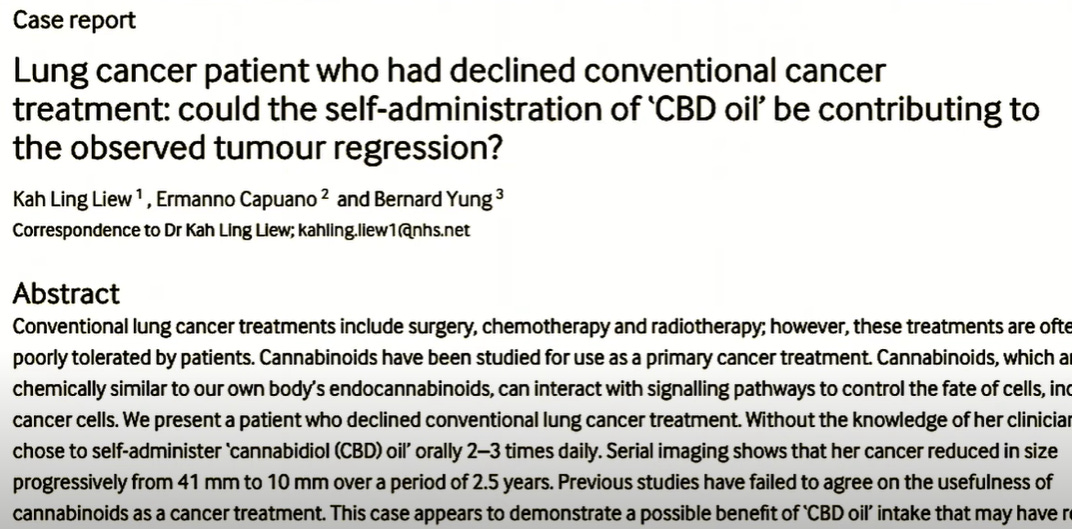 ========================
More cases:
Cancer patient claims her life has been saved by cannabis oil| ITV News
Black seed oil
Introduction:
========================
Anticancer Activities of Nigella Sativa (Black Cumin)
This paper explains the molecular structure of the black seed oil and the research and possible mechanism of its action in different types of cancer.
Fenbendazole & mebendazole
Joe's blog
https://www.mycancerstory.rocks//single-post/my-story-part-1-start-here
Research
Fenbendazole as a Potential Anticancer Drug
Mebendazole as a Candidate for Drug Repurposing in Oncology: An Extensive Review of Current Literature
Repurposing Drugs in Oncology (ReDO)—mebendazole as an anti-cancer agent
Clinical trial for Mebendazole in Treating Patients with Recurrent, Refractory, or Progressive Pediatric Brain Tumors