COVID19 Vaccines Risks & Injuries
Also see, COVID19 Vaccines Coincidences
Vaccine injury reporting systems
WHO – VigiAccess, the World Health Organization (WHO) global database of reported side effects of medicinal products.
US – CDC's Vaccine Adverse Events Reporting System (VAERS)
EU – EudraVigilance (EU, EEA, Switzerland)
UK – Medicines And Healthcare Products Regulatory Agency's Yellow Card scheme (U.K.)
Captures from each of these reporting systems:
WHO
US
This week's U.S. VAERS data, from Dec. 14, 2020, to Oct. 15, 2021, for all age groups combined, show:
19% of deaths were related to cardiac disorders.
54% of those who died were male, 42% were female and the remaining death reports did not include gender of the deceased.
The average age of death was 72.7.
Of the 3,014 cases of Bell's Palsy reported, 51% were attributed to Pfizer vaccinations, 41% to Moderna and 8% to J&J.
666 reports of Guillain-Barré syndrome, with 40% of cases attributed to Pfizer, 31% to Moderna and 28% to J&J.
2,010 reports of anaphylaxis where the reaction was life-threatening, required treatment or resulted in death.
10,290 reports of blood clotting disorders. Of those, 4,488 reports were attributed to Pfizer, 3,709 reports to Moderna and 2,040 reports to J&J.
2,878 cases of myocarditis and pericarditis with 1,815 cases attributed to Pfizer, 939 cases to Moderna and 114 cases to J&J's COVID vaccine.
Open VAERS does a search of VAERS numbers for easy display, you can get the same numbers directly from the CDC VAERS.
EU
Background – VAERS
Following the establishment of the National Childhood Vaccine Injury Act in the 1980s, and the Public Readiness and Emergency Preparedness (PREP) Act, congress remove all liabilities for the vaccine manufacturers so they cannot be accountable for any injuries their vaccines may cause. CDC's Vaccine Adverse Event Reporting System (VAERS) was created as part of this act.
VAERS is a passive site that captures a fraction of vaccines' adverse reactions as a number of independent studies have concluded. As an example, here is Harvard Pilgrim Health Care findings after analyzing VAERS data found, "fewer than 1% of vaccine adverse events are reported. Low reporting rates preclude or slow the identification of "problem" drugs and vaccines that endanger public health."
There are adverse reactions to any drug or vaccine. COVID19 vaccine is new with a new technology, it is not tested long-term in animals so the expected adverse reactions, especially long-term for children can prove to be catastrophic. Adverse reactions from COVID-19 vaccine in adults have so far ranged from mild reactions to fever, headache, heart inflammation, heart attack, tremors, neurological and immunological adverse, even deaths. Some of these are reported to VAERS and its equivalent EU site .
The highest since it's inception
Historically, only 5% of the VAERS reported cases ever received any compensation.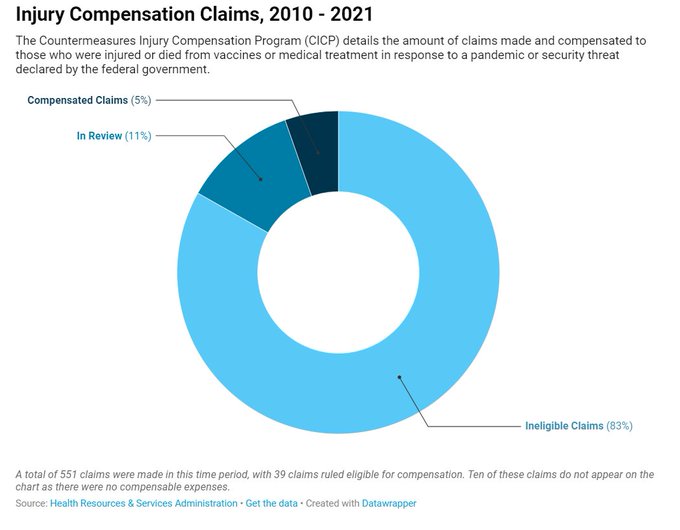 Myocarditis & Pericarditis following mRNA COVID-19 vaccines
Covid net shows hosp rate =3/million(0-18yr olds). Hosp rate for myocarditis after 2nd vax dose (same age group) =50/million. Risk 15X higher after 2nd dose than infection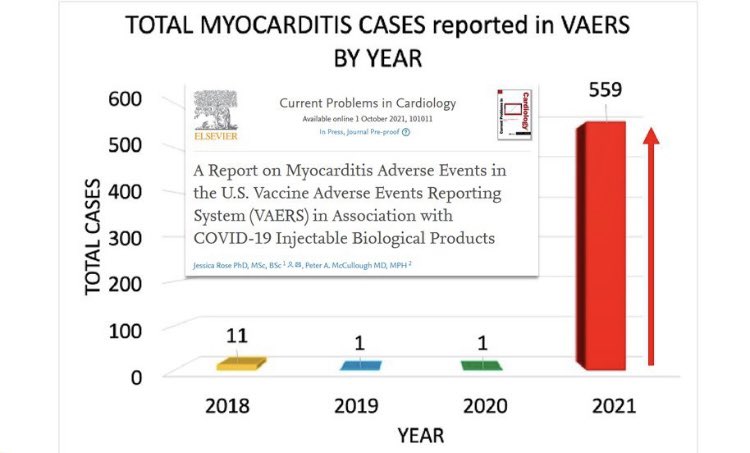 Risk to pregnant women
Comprehensive investigations revealed consistent pathophysiological alterations after vaccination with COVID-19 vaccines
"Here, we report, besides generation of neutralizing antibodies, consistent alterations in hemoglobin A1c, serum sodium and potassium levels, coagulation profiles, and renal functions in healthy volunteers after vaccination with an inactivated SARS-CoV-2 vaccine. Similar changes had also been reported in COVID-19 patients, suggesting that vaccination mimicked an infection. Single-cell mRNA sequencing (scRNA-seq) of peripheral blood mononuclear cells (PBMCs) before and 28 days after the first inoculation also revealed consistent alterations in gene expression of many different immune cell types. Reduction of CD8+ T cells and increase in classic monocyte contents were exemplary. Moreover, scRNA-seq revealed increased NF-κB signaling and reduced type I interferon responses, which were confirmed by biological assays and also had been reported to occur after SARS-CoV-2 infection with aggravating symptoms. Altogether, our study recommends additional caution when vaccinating people with pre-existing clinical conditions, including diabetes, electrolyte imbalances, renal dysfunction, and coagulation disorders."
Shingles & other autoimmune diseases after COVID19 mRNA vaccines
Where the vaccine spike proteins go?
Dr. Byram Bridle, associate professor in viral immunology at the University of Guelph's Ontario Veterinary College
Safe and effective
A video presentation by Steve Kirsch, Executive Director of the Covid-19 Early Treatment Fund.
Follow Vaccine Truth@VaccineTruth2 on Twitter for more up to date information.
Also, 50 reasons why some people are refusing to get vaccinated
Scientist Whose Wife Was Injured by COVID Vaccine Tells FDA: 'Please Do Not Give This to Kids'
No benefit and all risk for children and the young
Short and powerful presentation by Dr. Peter Doshi associate editor at The BMJ and assistant professor of pharmaceutical health services at the University of Maryland.
COVID19 Vaccines associated Parkinson's Diseas
See the document here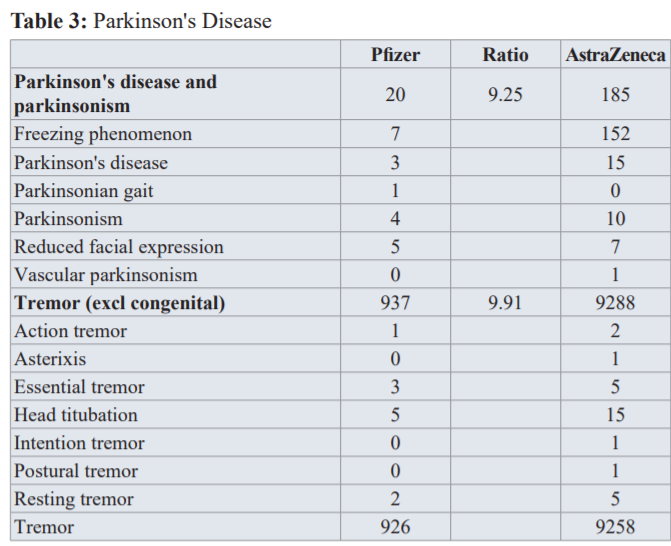 Don't take the 3rd shot!
Sucharit Bhakdi M.D. ret. professor, microbiologist, University in Mainz, Germany: "… if you had a headache with a covid vaccine, don't get another one; it can kill you!"
General vaccine rules
Vaccines are injected into healthy people/children, there needs to be extra scrutiny for their:
Necessity – prevent getting and spreading serious, widespread diseases with no safe treatment alternatives. This criteria can vary based on population/age affected by the pathogen.
Safety – including long-term safety established through long-term animal safety and human clinical trials.
Efficacy and effectiveness – adequate and long-term immunity and transmission prevention.
Also this: