Know Your Risk – COVID19 Vaccines
Open VAERS does a search of VAERS numbers for easy display
Background
Following the establishment of National Childhood Vaccine Injury Act in the 1980s, and the Public Readiness and Emergency Preparedness (PREP) Act, congress remove all liabilities for the vaccine manufacturers so they cannot be accountable for any injuries their vaccines may cause. CDC's Vaccine Adverse Event Reporting System (VAERS) was created as part of this act.
VAERS is a passive site that captures a fraction of vaccines' adverse reactions as a number of independent studies have concluded. As an example, here is Harvard Pilgrim Health Care findings after analyzing VAERS data found, "fewer than 1% of vaccine adverse events are reported. Low reporting rates preclude or slow the identification of "problem" drugs and vaccines that endanger public health."
There are adverse reactions to any drug or vaccine. COVID19 vaccine is new with a new technology, it is not tested long-term in animals and is not FDA approved so the expected adverse reactions, specially long-term for children can prove to be catastrophic. Adverse reactions from COVID-19 vaccine in adults have so far ranged from mild reactions to fever, headache, heart inflammation, heart attack, tremors, neurological and immunological adverse, even deaths. Some of these are reported to VAERS and its equivalent EU site .
VARES numbers as of June 25, 2021
The highest since it's inception
Myocarditis & Pericarditis following mRNA COVID-19 vaccines
Covid net shows hosp rate =3/million(0-18yr olds). Hosp rate for myocarditis after 2nd vax dose (same age group) =50/million. Risk 15X higher after 2nd dose than infection
Dr Scott Jensen, family physician
Shingles & other autoimmune diseases after COVID19 mRNA vaccines
Where the vaccine spike proteins go?
Dr. Byram Bridle, associate professor in viral immunology at the University of Guelph's Ontario Veterinary College
Safe and effective
A video presentation by Steve Kirsch, Executive Director of the Covid-19 Early Treatment Fund.
Follow Vaccine Truth@VaccineTruth2 on Twitter for more up to date information.
Also, 50 reasons why some people are refusing to get vaccinated
No benefit and all risk for children and the young
Short and powerful presentation by Dr. Peter Doshi associate editor at The BMJ and assistant professor of pharmaceutical health services at the University of Maryland.
The injured
While every COVID19 injury and death, especially in younger people, is covered repeatedly by the mainstream media, the many injuries and deaths from the vaccines are kept largely quiet. Even when the injured and their family come forward and demand answers, they are ignored and dismissed. Facebook recently closed a group of almost 20,000 people discussing their and their loved ones' injuries.
COVID19 Vaccines associated Parkinson's Disease
See the document here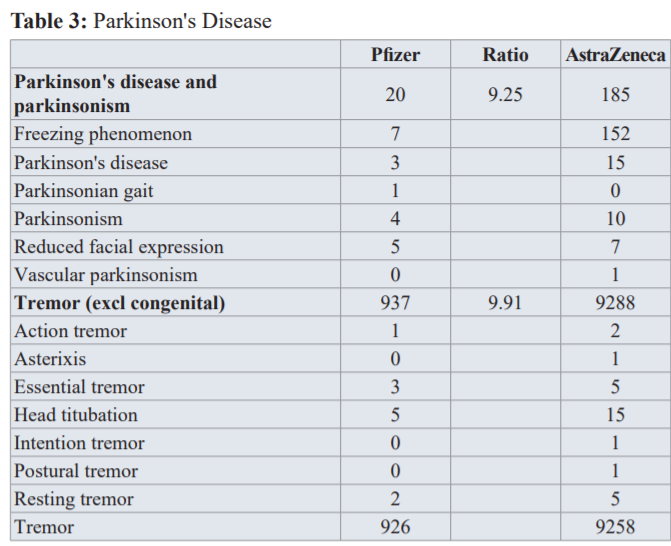 Don't take the 3rd shot!!
Sucharit Bhakdi M.D. ret. professor, microbiologist, University in Mainz, Germany: "… if you had a headache with a covid vaccine, don't get another one; it can kill you!"
General vaccine rules
Vaccines are injected into healthy people/children, there needs to be extra scrutiny for their:
Necessity – prevent getting and spreading serious, widespread diseases with no safe treatment alternatives. This criteria can vary based on population/age affected by the pathogen.
Safety – including long-term safety established through long-term animal safety and human clinical trials.
Efficacy and effectiveness – adequate and long-term immunity and transmission prevention.